On the Complex Society of Army Ants and their Guests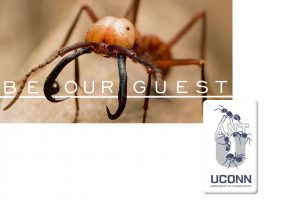 An evening to discover the intricacies of the complex society of army ants and their guests and to meet participants in the AntU outreach initiative from across campus. The evening will feature a talk by EEB Alumnus Dr. Rob Dunn (North Carolina State University) entitled: On the value of a mite riding the foot of an ant through the jungle, and other stories of the importance of curiosity-driven science.
We invite you to return with family and friends on Sunday afternoon, April 30th from 1:00 to 5:00 pm, to continue the celebration at the Public Opening of the Exhibit! Look for details on the AntU project and activities that day at AntU.uconn.edu.
When: Saturday, April 29, 2017;  7:00–10:00 pm
Location: Lobby, Biology/Physics building, 91 North Eagleville Road (map)
Parking: Lot 9 adjacent to the Lodewick Visitors Center and North Parking Garage at the intersection of North Eagleville Road and Hillside Road (map). North Parking Garage address: 103 North Eagleville Road, Storrs, CT 06269
Accommodation and questions: If you require an accommodation to participate in this event, or if you have questions, please contact us at AntUinfo@uconn.edu
Reception to follow lecture • Cocktail attire suggested
Reservations have been closed. Contact AntUinfo@uconn.edu should you need to register.