ABOUT THE AAGC AND NSF GRANT: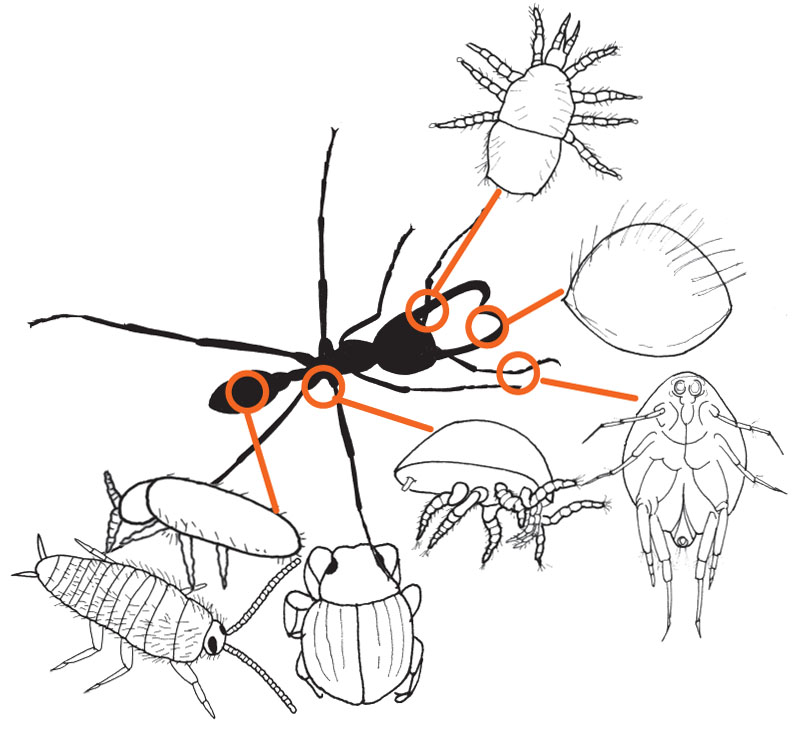 The AAGC is the result of over 50 years of fieldwork in the jungles of Central and South America by Carl and Marian Rettenmeyer; Carl Rettenmeyer was a professor in the UCONN Department of Ecology and Evolutionary.
The collection includes approximately 2 million specimens of army ants and their "guests," or hundreds of species of mites, beetles, flies, wasps, springtails, and bristletails that live among, or even on, the ants; many of these guests live nowhere else on the planet.
The collection contains more than 16,000 pinned specimens, 5,000 microscope slides, 15,000 vials, and 200 jars, which are complemented by over 6,000 Kodachrome slides and 5,000 field cards documenting army ants and their guests and behaviors in the wild.
A recent grant from the National Science Foundation provides funds for the curation and integration of the AAGC in the Biodiversity Research Collections in the UCONN Department of Ecology and Evolutionary Biology.
The grant also provides support for the development of an electronic database to make all specimen data and associated images publicly available online.
Two exhibits funded by NSF will be designed to share the wonders of this system with the public.
Click on pictures for magnified view and download
ABOUT THE FIRST AAGC EXHIBIT:
The first NSF supported exhibit, The Complex Society of Army Ants and their Guests, opens to the public on Sunday, April 30th from 1 to 5 pm in the lobby of the Biology/Physics building on the Storrs campus of the University of Connecticut.
Big ants attached to the outside of the building direct visitors to the exhibit.
The exhibit features a model of a giant army ant with eight bizarre species of guests attached to its body.
Hundreds of images of army ant guests including photographs taken in the field as well as light and scanning electron micrographs provide a detailed look at these tiny creatures and their lives with army ants.
Visitors are challenged to locate guests cryptically "running" with their ant hosts on the floor and in photos.
VISITING THE EXHIBIT
Exhibit cost and access: free; open to the public Monday through Friday, 7AM – 5PM, April 30th, 2017 through 2019
For groups: contact Leanne Harty (Connecticut State Museum of Natural History)
For public programming: see antu.uconn.edu
Location: Lobby of Biology/Physics Building, 91 N. Eagleville Road, Storrs, CT 06269 (map)
Parking information available at antuactivities.uconn.edu
Click on pictures for magnified view and download