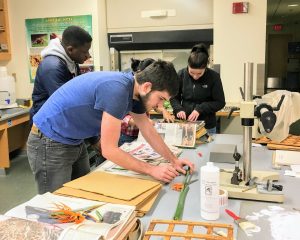 Join us in the herbarium! We have a variety of opportunities for interested students and community members to become involved in natural history collections activities.
Learning
We offer a four-evening, 1 credit class for graduate and undergraduate students in any department called Introduction to Natural History Collections, a.k.a. "The Collections course." It combines lecture, lively discussion, and hands-on activities. Not a UConn student and want to participate? Email the instructor for information on auditing.
If you're interested in more in-depth training than the Collections Course provides, or have a specific research-oriented question you'd like to investigate, we invite you to propose an Independent Study for credit. Independent Studies can be structured as practica in natural history museum methods or focused on a narrow research topic. These classes award one (1) credit for three (3) hours of hands-on instruction per week or two (2) credits for six (6) hours per week.
Working
We hire a small team of Work Study students each fall in the herbarium and the other collections – contact the Collections Manager with whom you'd like to work for information on how to apply (a financial aid award of work study funding is required). We also usually have a small number of paid student positions available over the summer.
Volunteering
Individuals and groups of volunteers from the community at any level of experience are very welcome at the herbarium, and we are happy to match your interests and abilities to a variety of hands-on tasks. Contact Sarah Taylor for more information.
Giving
We are very grateful for financial support. To contribute to the Biodiversity Research Collections Endowment Fund, go to our secure online giving site at The University of Connecticut Foundation, Inc. These funds support research as well as preservation and documentation of our world-class collections.