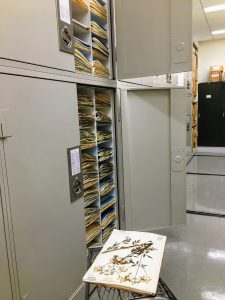 The George Safford Torrey Herbarium (CONN) was founded on December 31, 1897 as the Herbarium of Storrs Agricultural College. From its initial 121 specimens contributed by Henry Ballou's botany students, it has grown to ca. 200,000 specimens, over 90% of which have digital records and high-resolution images available online. This massive digitization effort was undertaken by a dedicated group of 50 undergraduate students supervised by former Collections Manager Dr. Bob Capers and funded by a 2009 NSF grant.
For information on UConn's Paleobotany collection, Plant Biodiversity Conservatory and Research Core (living plants, informally known as The Rainforest), or any of our natural history specimens OUTSIDE of Kingdom Plantae, visit the Biodiversity Research Collections homepage.
Visiting
CONN welcomes all visitors to use our data and collections. Visiting hours are by appointment from 9-5 Monday to Friday; appointments can be made by calling or emailing the collections manager, Sarah Taylor (860-486-1889; sarah.taylor@uconn.edu).
We are located (google map)on the first floor of the BioPhysics Building (BPB) in Room 115, 91 North Eagleville Road, Storrs, CT 06269. Parking is available in North Garage; exit the garage from the "B" stairwell, cross Auditorium Road Ext., and continue east approximately 450 feet on North Eagleville Road. BPB will be on your right, and you can't miss the giant ants mounted on the wall by the entrance.
CONN can provide state of the art research facilities including new microscopes, imaging systems and database work stations.  Food and drinks are prohibited in work spaces and collections storage areas. Food can be stored in our refrigerator, and the Up and Atom cafe is located just downstairs. Office space is available for visiting scientists for an extended period of time.
If you are interested in a tour of the herbarium or the Biodiversity Research Collections, please complete this form.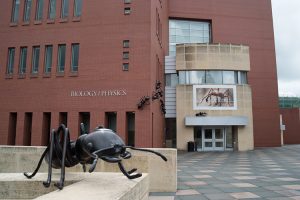 Library
The Herbarium Library is now located (with other Biodiversity Research Collections library holdings) in BioPhysics Building Room 112 across the hall from the main collections in a specially built facility. This library is a satellite library of the UConn Library. The library houses important taxonomic literature, monographs, and journals and is frequently used by visitors, staff, students, and faculty. Photocopies are free of charge and all herbarium users are welcome to use this facility. We maintain and update a comprehensive list of volumes in the library, including taxonomic literature, monographs, journals, and floras of many U.S. states and foreign countries.
We are always looking for donations of taxonomic botanical and horticultural literature to the library. We are particularly fortunate to have received a remarkable donation of bryological literature from Dr. Storrs L. Olson.
Contact
Email Interim Curator Bernard Goffinet at bernard.goffinet@uconn.edu.
Email Collection Manager Sarah Taylor at sarah.taylor@uconn.edu.
Call the herbarium at 860-486-1889 or 860-486-8954.
Send mail and packages to:
Sarah Taylor
George Safford Torrey Herbarium
Department of Ecology and Evolution, University of Connecticut
75 N Eagleville Rd Unit 3043,
Storrs, CT 06269
USA