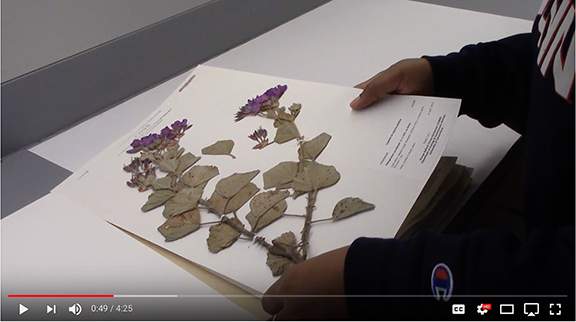 The Biodiversity Research Collection provides learning opportunities beyond EEB. 
Daniela Doncel
, a journalism and French double major and student in creative writing at the University of Connecticut created a
video
now posted on Youtube that focuses on research conducted by EEB researchers in South Africa. Ms. Doncel is also the News Director at WHUS Radio at UConn and the president of the UConn Coalition of Writers, a creative writing club at the Storrs campus.
She met Tanisha Williams, a Ph.D. candidate in EEB in the Holsinger and Schlichting labs, through a science and journalism communications course in which undergraduate journalism students and graduate STEM students learned to better communicate through the art of interviewing. Tanisha was her first interview in the class, and she was able to learn a bit about her research in South Africa. Ms. Doncel was immediately interested because of the international aspect of the research as well as her curiosity over the genus Tanisha was studying. Throughout the semester of fall 2017, Ms. Doncel took on the challenge of taking the complexity of Tanisha's research and explaining it in a short amount of time with a visual medium. With this experience, she learned many new skills as a journalist, and had the opportunity to share what she learned about the importance of Tanisha's research.
The learning experience was two directional: for Ms. Doncel the BRC provided an opportunity to learn about climate change research and for Ms. Williams, the creation of this video provide an opportunity to practice her science communication skills.
---